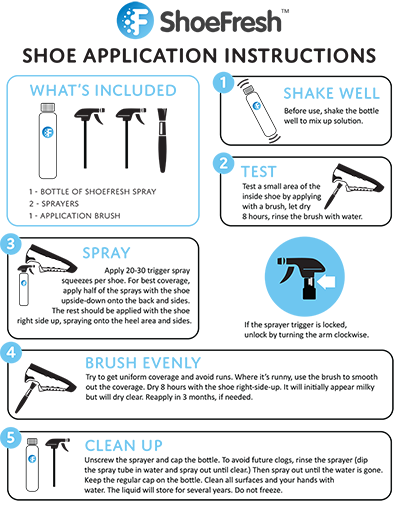 How is ShoeFresh different than other products?
We know there are lots of options, but Shoefresh is the only one that lasts 3 months after just one application! If you spray your shoes once you can wear them all season without worrying about bad odor.
Will it stain my shoes?
Shoefresh will dry on clear and in almost all cases won't be visible on your shoe. To be sure, you can spray a small discrete part of your shoe and let it dry for 8 hours to test.
How does the ShoeFresh Guarantee work?
We're absolutely certain that after 3 months your shoes are going to be odor free. And to back that up we offer this guarantee: if after 3 months of use you are unsatisfied with the performance of ShoeFresh shoe spray, we will refund the purchase price of product.
Just send an email to guarantee@shoefresh.com with your order number and we will send you a refund for the purchase price!
Why is my shoe stiff after applying?
No need to worry if your shoe feels a little stiff after applying. After a day or so of wearing, the feel of your shoe will return to normal.
Can I spray sandals or shoes I wear without socks?
Yes! Shoefresh Shoe Spray won't harm your feet and will dry on clear so your sandals won't look weird. You may want to spray a small descrete portion of the sandal first and let it dry for 8 hours to test for any change in appearance.
Do I have to use this brush?
Not if you don't want to, be we think if you give it a try it will make the process easier. You're just trying to get a light even coat over the whole interior of the shoe and the brush will make it easy to get some of the nooks and crannies.
Should I spray new shoes or just ones that stink?
If you spray your shoes when they're new, they'll never stink! We think you should spray all your new footwear, especially footwear you expect to be very active in or wear without socks.
I treated my stinky shoes and they still stink!
Don't worry! ShoeFresh shoe spray is working around the clock to knock out odors in your shoes. Sometimes if you apply it to a shoe that's already really smelly, it might take a few days to fight the odors.
Next time apply ShoeFresh to your new shoes and then they will never stink.